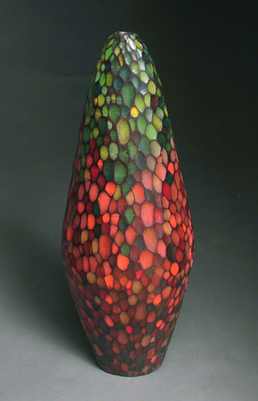 Michael Bauermeister
Augusta, Missouri


Ivy Covered
33" x 12" x 8"
Carved, laminated linden wood with paint, stain and lacquer


I have chosen the wood vessel for my sculptural ideas because I find it to be a comfortable place for both the viewer and myself to start. From here I can explore the issues of form and texture, scale and color, all in the natural beauty of wood. I hope these pieces have a soothing presence that provides restful relief in an increasingly pressured world.


For Further Information Contact
Michael Bauermeister 6560 Augusta Bottom Road Augusta, MO 63332 636-228-4663
michael@bauermeister.com
michaelbauermeister.com
Photography: Michael Bauermeister