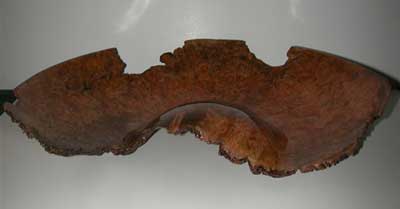 David Woodruff
Lewisville, North Carolina


Half
14" x 9" x 3"
Created from Chechen Burl grown in Central America. Beautiful grain & colors with natural edges with museum quality hand rubbed lacquer.


The major objective in his artistry is the continuous evolvement of methods for revealing nature in wood. He states, "My challenge in the creation of each 'one-of-a-kind' piece is developing that form which reveals and pays homage to the infinite variety of nature." Woodruff's works use woods with mineral, metal and fossil bone as occasional contrasting inlay materials. The diversity and museum quality of each unique piece mirrors his lifelong passion for wood and wood artistry.

For Further Information Contact
David Woodruff 192 Sonata Drive Lewisville, NC 27023 Phone: 336-945-9145 Fax: 336-945-3896
pdwoods@triad.rr.com
pdwoods.com
Photography: David Woodruff