---
Norma Minkowitz
---
As an Art student in 1958 at the Cooper Union Art School in New York City, my primary focus was on drawing with pen and ink, and sketching with pencil. I felt that drawing was an intimate record of an Artist's imagination. Inspired by linear elements, I pursued portraiture and the human body as subject matter. I feel that these earlier works led to my more mature work in fiber (also a linear element). Early in my art I experimented and worked with various combinations, from soft sculpture to large wall hangings, that at times were done three dimensionally and at times in thread lines. Then in 1983 1 crocheted around a shoe, removed the shoe and discovered that I had created a transparent form. Since then, I have been exploring the possibilities of these open crocheted sculptures, stiffened into hard but transparent forms, which often make statements about containment.
These fluid and organic forms become possible by having a soft material turn into a hard material and the process becoming a part of the content. Structure and surface are achieved at the same time, and the openness allows me to show the interior space exposing and enclosing simultaneously.
My new work retains implications of containment and psychological complexities, but focuses on the human form as a metaphor for universal themes and the landscape. I have also been working with hog gut, found objects, as well as paper mache. I find hog gut especially fascinating. An organic pliable material that when dry is like parchment paper, another vehicle for fine pen and ink drawing.
I am continuing my work with fiber, hog gut and found objects using the body as inspiration.
The transparent openness of these materials allows me to continue my focus on manipulating fiber and skin into personal and psychological statements, that both enclose and expose a mysteriousness that invites contemplation.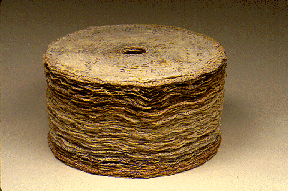 Layers Fiber/Paint, 5.75" x 10" x 11"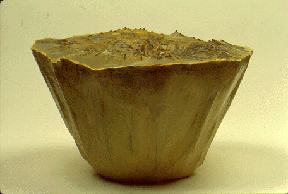 Frostline Fiber, Paper, Gut, 7" x 12" x 12"
For Further Information Contact
Norma Minkowitz
25 Broadview Road
Westport, CT 06880
1-203-227-4497