---
Karen Turnidge
---
Karen is an Ohio native. Her ancestors came here in 1807 from Paris, France and to Ohio in a covered wagon. Her paintings, prints, and works in fiber/metals are impressionistic and typically of Ohio; its machines, architecture, and people. Her works in fire/metals have been published, exhibited, collected, and placed in a museum.
Karen's baskets are one-of-a-kind art baskets many using techniques pioneered in metals - a custom cad program on a Atari for baskets in 1984 and felting in metals in 1981. Karen's work is published in the Basketmaker's Art & Textile Techniques in Metals - Lark Publications 1995.
Ormolulu At the Palace Impressionistic/Brass, 10" x 14"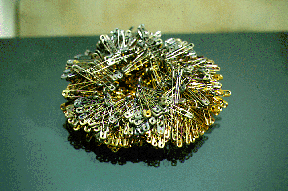 Coming Home to the Palace in Paris Impressionistic/Brass, 5" x 10"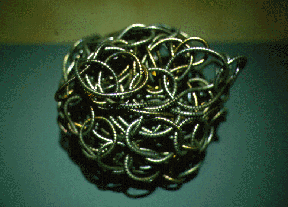 Minuet In Twine Impressionistic/Stainless Steel, 7" x 7"
For Further Information Contact Karen S. Turnidge 748 Fairchild Avenue, Kent, Ohio 44240