---
My recent work which is inspired by water towers. The water tower protrudes from a clump of trees that marks the presence of small towns in the austere mid-American prairie. Often the tallest structure in town, at one time it represented a significant civic achievement, becoming a town monument. It is the ultimate metal vessel in capacity and scale, and its visual dominance makes it a focal point in most settings. Through the connecting pipes, it is the heart of the system that binds a town together. Today it has been forgotten and eclipsed by other civic achievements, but the tower's prime function, creating pressure, continues. This conflict between imposing monumentality and anonymous position within the community is what I find fascinating and creatively stimulating.
My "water towers" take the form of a standing cup, a footed vessel which reached its zenith during the late Renaissance. These cups designed to be displayed in"cabinets of curio" and were symbols of wealth and status among the aristocracy. This was also a contributing factor to their virtuosity. Since they were usually a decorative objects dependent upon function only for their form, the artist could easily use his imagination and technical skills to their fullest, producing what are considered to be monuments of precious metal.
The imagery in the current work depicts small town objects that had an impact on me. Sounding devices like whistles and bells that break the calm in dramatic fashion and would be audible markers. Air raid sirens and their blast, were the definitive symbol for the nuclear bomb hysteria of my youth. They were also used to warn of the approach of one of natures most violent and feared phenomenons, the tornado. Street lights that pierce the darkness of a rural setting and trash that surround water towers I have seen in metropolitan areas. Small towns keep the base of the water tower clean and covered with well-cared-for grass. My intention is to create a visual dialog that contrasts urban and rural America.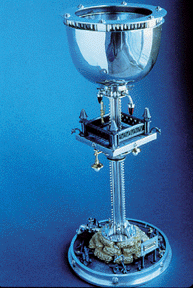 "Gamma: Water Tower #3"
12" h x 4.75"dia.
Standing Cup, sterling silver, garnets,
and pearls, fabricated and raised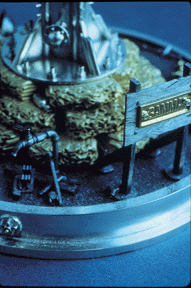 For Further Information Contact
Richard Mawdsley

204 Lynne Lane

Carterville, IL 62918

(618)985-4705